As you shop for a heavy-duty passenger pickup or work truck at Grande Truck Center, you'll note that many of our models are equipped with diesel engines. Does this option make sense for your needs? To help you decide, we've put together a guide to the advantages of diesel trucks. 
More Towing Capability
Diesel engines make far more torque at low speeds than their gas counterparts, which means they're especially well-suited for yanking heavy trailers. If you plan on doing a lot of serious towing with your truck, a diesel engine will give you the extra capability you need. For example, the 2020 

Ford

 

F-250

gets a maximum 475 lb-ft of torque from its gas engines - but an astounding 1,050 lb-ft from its available Power Stroke® V8 turbodiesel.
Better highway fuel economy
Heavy-duty trucks aren't known for their efficiency, but a diesel model can save you a bit of money in this area. Diesel engines typically yield better fuel economy in highway driving situations than gas engines. If your days behind the wheel include a significant amount of open-road cruising, consider a diesel truck.
More durability
Diesel engines typically last much longer than their gas counterparts. Why is this? Diesel engines use extremely high compression ratios to ignite their fuel. This means they need to be constructed much more durably than their gas counterparts. Combine this with simpler design (diesel power don't need spark plugs), and you get an engine that will run reliably for many years.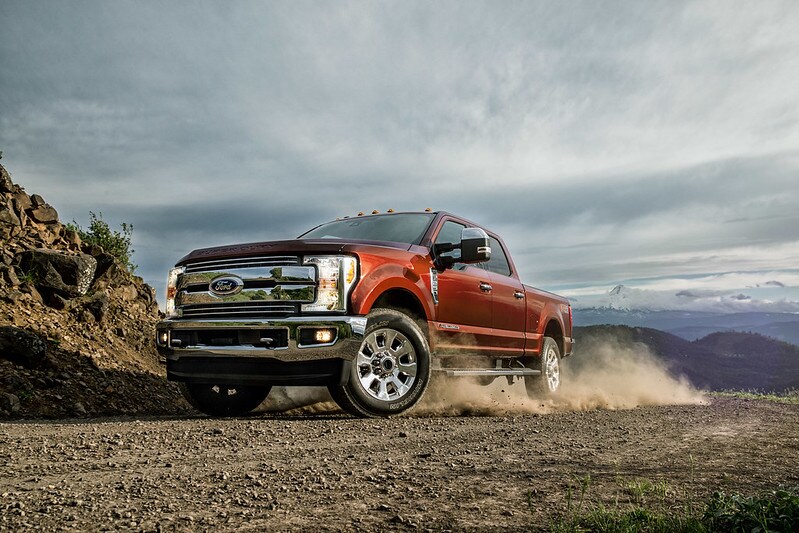 Higher resale value
Is resale value a priority for you? If you like to trade up frequently for newer models, or you don't plan on keeping your vehicle for many years, diesel-equipped trucks tend to depreciate less after you drive them off the lot.  
Here at Grande Truck Center in San Antonio, two of our most popular diesel models are the 2020 Ford F-250 heavy-duty pickup and the 2020 Ford F-550 work truck. We invite you to stop in and test-drive one of these models, and you can also browse our inventory online.
Hours
Monday

8:00AM - 6:00PM

Tuesday

8:00AM - 6:00PM

Wednesday

8:00AM - 6:00PM

Thursday

8:00AM - 6:00PM

Friday

8:00AM - 6:00PM

Saturday

9:00AM - 3:00PM

Sunday

Closed