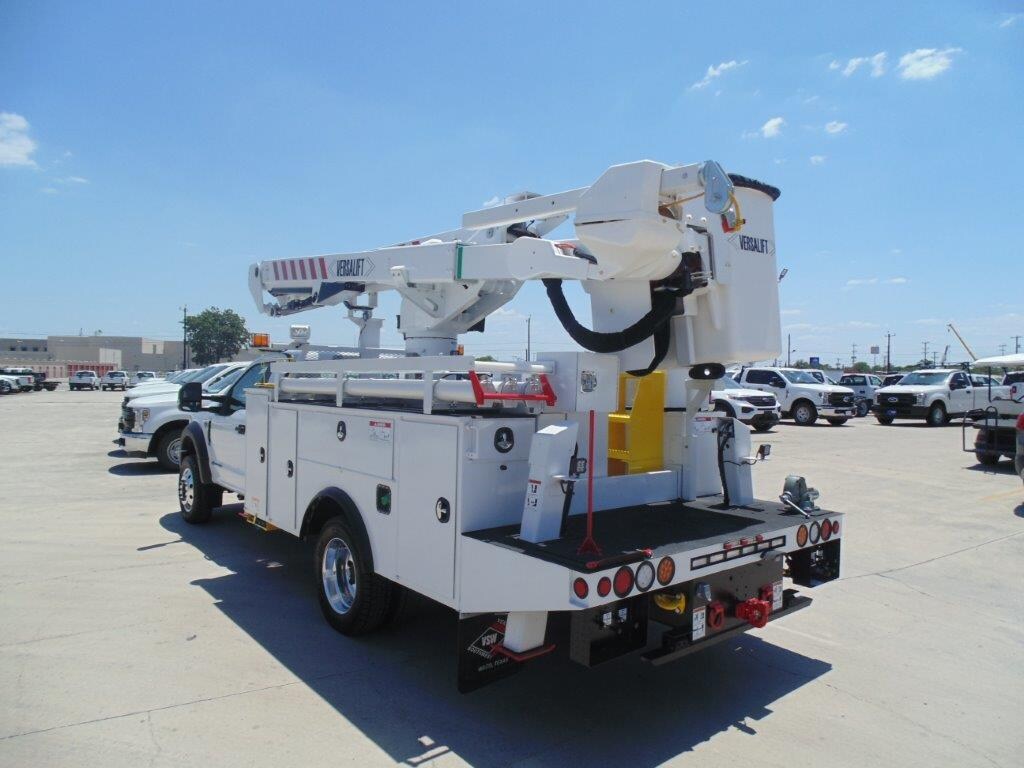 Featuring a platform on the end of a lifting boom, which is attached to the truck on a rotating turret, bucket trucks need to not only elevate workers safely but also be capable of carrying the materials they need.
There are several different types of bucket trucks on the market, each with varying features and capabilities, as well as various different manufacturers. Below, we'll go over some of the different specifications you should consider when buying a bucket truck.
Bucket truck specifications
Platform height. A bucket truck's platform height is the maximum height at which an employee can safely work and is often known as the "working height."
Side reach. This is the distance the platform can move from side to side. Some bucket truck arms can even swivel 360 degrees.
Weight capacity. This is how much weight the platform can hold. Almost all bucket trucks have a weight capacity of 400 pounds.
Fuel type. Gasoline or diesel. Gas-powered bucket trucks tend to be more lightweight, while diesel-powered trucks are used in heavy-duty work. You can find both at Grande Truck Center.
Driveline. This is the type of wheels, differentials, axles, joints, and transmission the truck uses, which are generally affected by the transmission type and the intended purpose of the truck.
Transmission type. Most bucket trucks have automatic transmission with either 2WD or 4WD. The former is more efficient and typically used in lightweight bucket trucks, while 4WD is less efficient but better suited for heavy jobs and rough terrain.
Types of bucket trucks
Articulated Over-Center. With a boom centered in the middle of the truck, articulated over-center trucks are more flexible and well-suited for open working areas.
Telescopic Articulated. These trucks have boom extenders layered within the external piece that allows operators to extend the bucket at difficult angles. Good for confined spaces such as in forestry and construction.
Insulated. Suited for utility companies, these trucks provide extra protection against accidental contact with electric wires or other sources of electricity.
Bucket truck brands
The most commonly used bucket truck brands are Altec NUECO, i80 Equipment, Utility Fleet, and Versalift. Of these, Versalift stands out as the top brand with an A+ BBB rating, a PM Award for Outstanding Achievement in New Product Design, and for being the only one of these brands to offer not just 24-hour online and phone support but also training options.
You can find some of Versalift's excellent bucket trucks at Grande Truck Center located in San Antonio, Texas. 
Hours
Monday

8:00AM - 6:00PM

Tuesday

8:00AM - 6:00PM

Wednesday

8:00AM - 6:00PM

Thursday

8:00AM - 6:00PM

Friday

8:00AM - 6:00PM

Saturday

9:00AM - 3:00PM

Sunday

Closed
We Want To Hear From You!